Arena Flowers – Autumn Flowers Available at Arena Flowers
Pretty much any time is a good time to purchase flowers, whether it be for a gift or even for yourself (why not!). With that in mind, Arena Flowers now have their updated range of flowers available for the autumn, which we explore. If you're more familiar with other online florists, you shouldn't make the mistake of thinking they're all the same: Arena Flowers is officially recognized as the UK's most ethical florist, with the awards to prove it.
Arena Flowers - The UK's Most Ethical Florist
Besides having a terrific range of flowers and bouquets, with a demonstrated commitment to operating ethically and sustainably, Arena Flowers is definitely worthy of your attention.
100/100 Ethical Company Index Score
Arena have blazed the ethical company trail for nearly a decade and in the previous four years Arena has earned a perfect 100/100 score.
1.2 Million Trees Planted In 2021
Having planted over a million trees in 2021, Arena are committed to planting over two million trees by the end of 2022.
Zero Single-Use Plastics Since 2017
Arena Flowers have not used single-use plastics since 2017, and 100% of Arena's packaging is 100% compostable.
So, when you choose to purchase flowers from Arena Flowers, it means more than simply sending gorgeous flowers. Every purchase you make becomes a choice to support initiatives which make a positive impact on planet Earth and its inhabitants.
Whether it's through the direct support of buying flowers cultivated by Fairtrade growers, or through the charities who Arena supports, or simply by the absence of purchasing your flowers from a less environmentally and socially conscious company, your purchase at Arena really does make a difference.
A Selection from the Autumn Range of Flowers
Listed below you'll find some of the current bouquets and arrangements available from the current autumn range. Prices are correct at time of writing, but may vary in due course.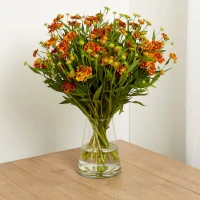 Glimmer and Glow
These quirky helenium blooms look like snaps and crackles from a fire on a cold night, and is sure to give a warm glow to anyone who receives it.
Price £30.00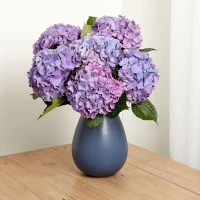 Taffeta
The colours in these opulent purple hydrangeas seem to shift in the light, creating dappled texture and drama.
Price £60.00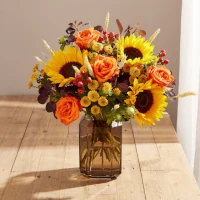 Bountiful
The combination of warming yellows and oranges, mixed with deeper reds and burgundy calmly energises and uplifts.
Price £38.00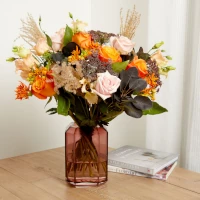 Embrace
This bouquet of creamy pink, peach and vibrant orange represents autumnal romance. Burgundy Queen Anne's Lace and Cotinus (the smoketree or smoke bush) add depth, and strands of Miscanthus fluff up the edges of this bouquet.
Price £45.00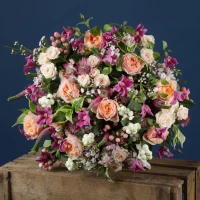 Berry Crush
A stunning bouquet of rich, luxurious florals, our Berry Crush is practically perfect in every way. The Vuvuzela rose proudly takes centre stage in this arrangement with its large cup shaped bloom and gorgeous peach colored centre and salmon pink outer petals.
Price £100.00
Other bouquets and arrangements include:
Letterbox Simmer
The cool magenta santini are creatively contrasted with orange lilies, roses and carthamus. Delight in the different textures in the kangaroo paw and miscanthus.
Price £26.00
Sunblush
Powder puff hydrangeas create soft shape with deep pink roses adding drama, while pink lisianthus and greenbell bring everything together for this raspberry delight of flowers.
Price £50.00
Graceful
This bouquet features both pink and white antirrhinum, peachy 'Miss Piggy' roses, apricot lisianthus and fragrant eucalyptus. Creating a delicate and fluffy texture.
Price £45.00
Cookies and Cream
Beautifully decorative light pink astrantia have been paired with glossy pink astilbe and stunning variegated weigela creating a subtle but impressive bouquet.
Price £65.00
What Else is There to Know?
The best way to find out more about Arena Flowers is to visit the website, and you're sure to be impressed with both the selection of flowers available and the company itself. However, you may also like to know that free next-day delivery is available if you order before 9pm (UK time, of course). Besides that, regular next-day nationwide delivery to most of the mainland UK usually costs just £4.
Related websites you may be interested in include Interflora Flowers, where you can also send flowers internationally, and Bloom, which sells a massive range of artificial and silk flowers, plants, bouquets and related products.